Top 5 Best Hand Massagers of 2022
Updated: February 24th, 2022
Sure, the work-from-home life is great. You don't have to go out – there's the proximity to food and your bed, and if you have them, your fur babies. But, like everything else, there's a cost. Being on your computer all day is bound to take its toll on your hands. If your hands' troubles don't come from typing, they could still get fatigued with all the other work you do all day.
Without proper hand care, I discovered that my wrists, hands, and forearms were sustaining repetitive injuries like carpal tunnel syndrome, and they ached all the time. At the height of the pandemic, I discovered hand massagers. 
Hand massagers are smart devices that you can use to relieve pain in your hands and, in some cases, your wrists. They are perfect for keyboard users, sports players, and anyone else who works mainly with their hands. To make your hand massager purchase much easier, I tested several recommended hand massagers to bring you the top 5 to buy in 2022.
Purology LXB Hand Massager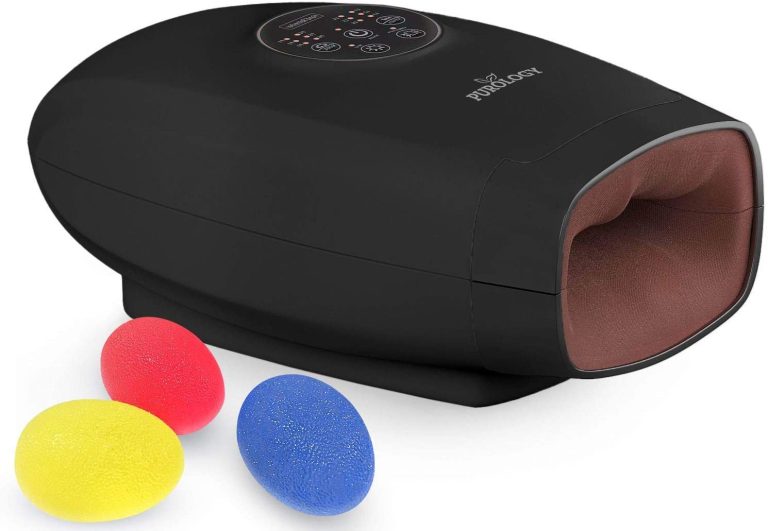 Lunix LX3 Cordless Hand Massager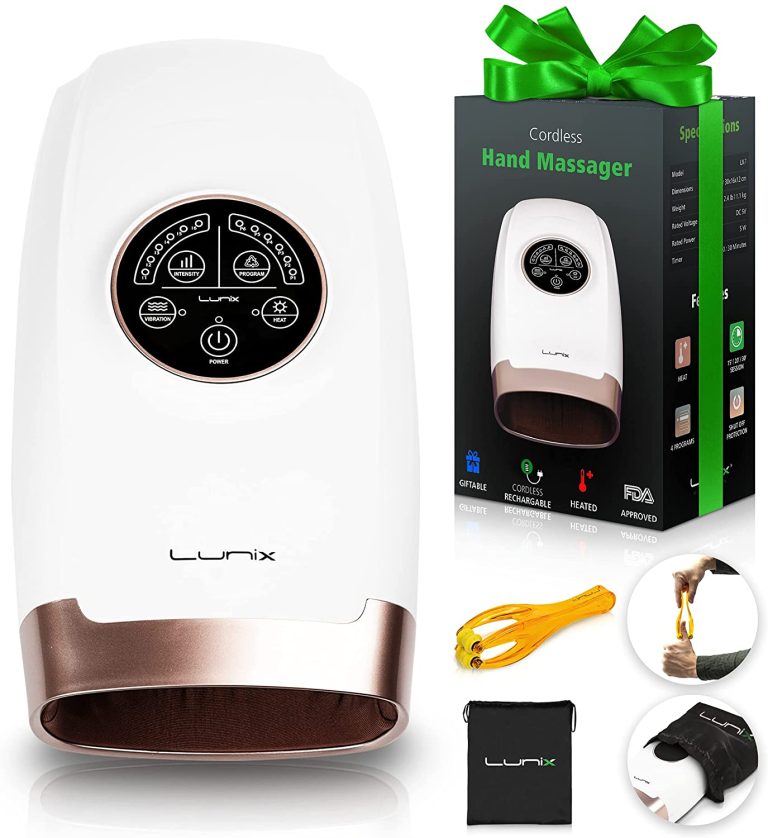 LifePro Legra Hand Massager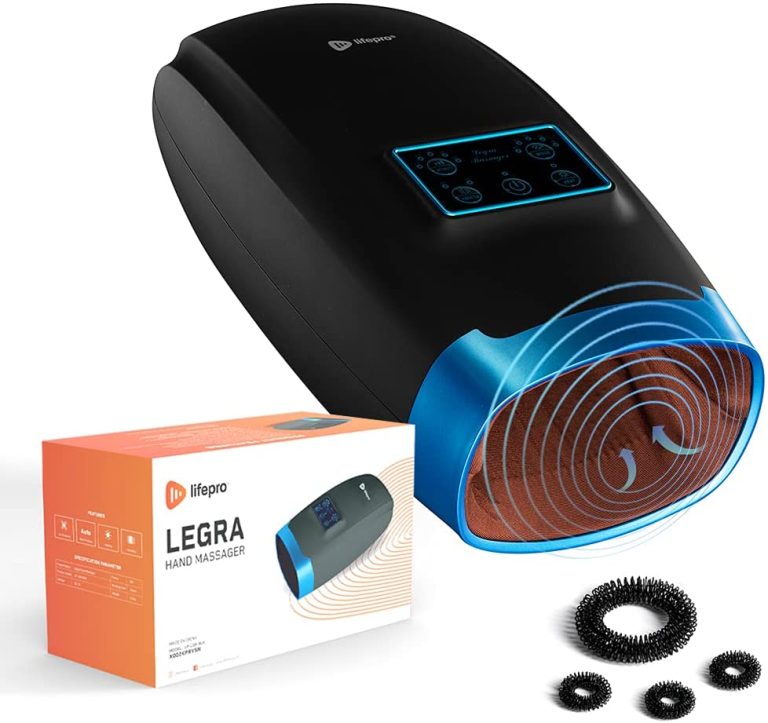 HoMove Hand Roller Massager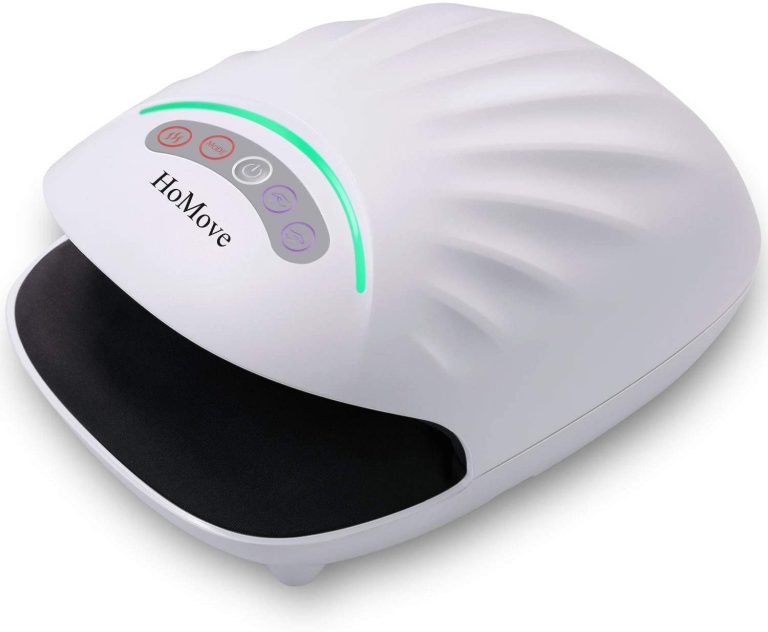 Why i-Hand Massager is The #1 Pick?
As unexciting as it might sound, I spend a lot of my time at my keyboard. And when I'm not, you might find me obsessively cleaning and sometimes working out. Needless to say, my hands are almost always busy and stressed! I suffered from numbness in my fingers and the infamous carpal tunnel syndrome for the longest time. 
I first heard about hand massagers from my friend who has been playing the piano for years. However, when I went online, the search was overwhelming, to say the least. There was quite a lot to choose from. During my search, the i-Hand massager was one of the first that I tried out, and I was immediately confident that it would be the one to sit by my computer every day from then on. For the rest of the testing period, a few came close but never matched the i-Hand.
The i-Hand massager is a small electric machine with small airbags. When you put your hand in the machine, the small airbags apply pressure on your tense muscles. It relaxes all the stressed muscles and nerves, leaving your hand as good as new. It also uses a specialized heating technology to stimulate blood flow.
Benefits of hand massagers for family -
Arthritis pain relief
Increased blood flow and circulation
Increased dexterity and mobility
Reduction in carpal tunnel syndrome pain
General pain
Help with sleeplessness
Natural headache pain relief
Effectively Reduces Pain, Numbness, and Joint Pain
The i-Hand massager does a wonderful job of easing pain and tension in your hands. It exerts sufficient pressure and kneading to effectively reduce pain from arthritis, carpal tunnel syndrome, and fatigue. It's also perfect for relieving joint pain and numbness in your fingers. With consistent massaging over a week, you may observe a significant improvement with any long-lasting pain in your hands.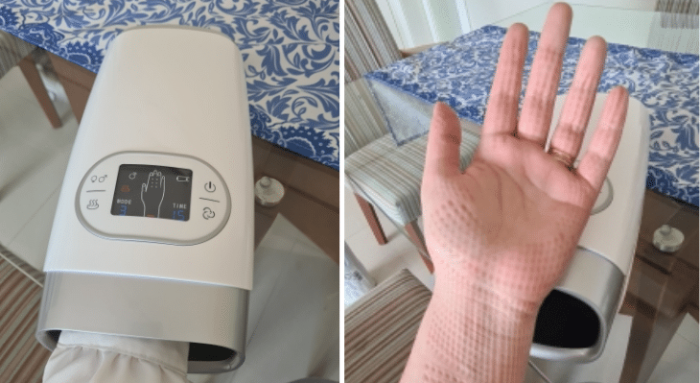 It's normal to have weakened or loosened grips when you do a lot of work with your hands and fingers. People with arthritis and other similar conditions also experience this. The i-Hand massager operates on pressure points of the hand to improve and regain grip strength.
Intuitive Air-Compression Technology
i-Hand has little airbags on the interior. They work based on how you program them, and depending on the strength; they do a great job of compressing various parts of your hand. This intuitive compression technology is by far the most impressive that I tested. Gentle when you need it to be and firm when your hands need the extra pressure.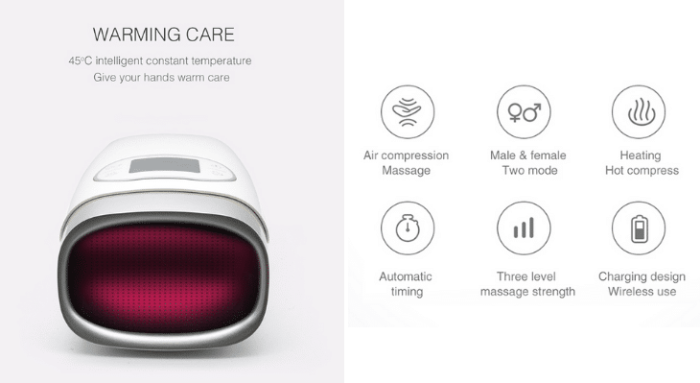 There are 2 modes based on strength. Depending on your preference, the i-Hand massager applies adjusted degrees of pressure to give you the best results. If your hands are on the more tender side, or your pain is not as severe, you can use the gentler mode. If it's the other way round, the stronger mode works great.
The i-Hand massager heats up quickly to provide a soothing hot compress. This promotes blood flow and muscle relaxation. When I took my hand out of the massager, I was almost sure I had a completely new hand! This feature right here has my heart.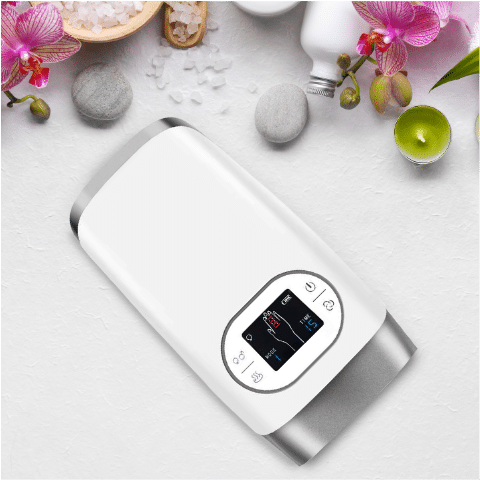 Multi-level Massage Strength
Based on your needs, the strength can be reduced or decreased in 3 levels. This is particularly great if you want to gradually work your way up the intensity so your body can adjust to it or for an optimal massage.
The i-Hand massager is affordable, and for all the irreplaceable value you get, it's a pretty great bang for your buck. You can purchase it worldwide through the official website and get free shipping with discounts on multiple or bulk orders. What's not to love!